Please use this thread to post all questions related to the One Click script.

See troubleshooting section at very bottom of this post before submitting a question.
IF YOU HAVE ALREADY INSTALLED THIS TEMPLATE PLEASE CHECK THIS THREAD (CLICK HERE) FOR ANY UPDATES
Access ALL of MFLScripts here.
 
This following script will make it effortless to :
1. setup your existing or new site so that the settings are adjusted so you can start adding custom scripting. (runtime for script execution is 20sec.)
2. reset your site to its MFL default settings. (runtime for script execution is 1min. 10sec.)
3. install our custom template on click of a button. (runtime for script execution is 1min. 10sec.)
The Script contains 4 separate functions you can execute on your site.
Load Template - Installing this template will delete all your current homepage messages , tab layout and any css files uploaded.
Adjust Settings - Some of your current league settings will be adjusted to not conflict with any custom script.
No homepage message , tabs or css will be edited.
Reset MFL - This option will reset your site to MFL Default. All your current Homepage Messages , Tabs Layout and CSS files will be removed
Remove this script - This option simply removes this script from your site if just testing to see what it looks like. All other options above will automatically remove the script when completed.
ONE CLICK SCRIPT INSTALLATION
BEFORE installing the script , navigate to For Commissioners>Setup>Locate the "Appearance" section of right side column > Click link called "Reports and Security Settings" > Now find the option for "Use Advanced Editor on league type-in boxes?" make sure to set this to NO , then save the page.
Script MUST be placed in your homepage message #1 and marked as a "Footer"  - once message is saved , go to your homepage and a popup will appear. Click on which of the 3 types of install you want to do , follow the on screen directions. If choosing to install our template , note if you league name is real long you will need to adjust its font size. See instruction in the next post under the "Header Section 4"
DO NOT PROCEED TO INSTALLATION IF YOU HAVE NOT DONE OR UNDERSTOOD ABOVE !!

<!------------------------------------------------------------------------------------------------------------>
<!------------------------------------------------------------------------------------------------------------>
<!-----------------------------------------------IMPORTANT !!!!----------------------------------------------->
<!------------------------------------------------------------------------------------------------------------>
<!-----------------------------BEFORE YOU INSTALL NAVIGATE TO "FOR COMMISSIONERS"----------------------------->
<!------------------------------------------------------------------------------------------------------------>
<!-----------------------------------CLICK ON REPORTS AND SECURITY SETTINGS----------------------------------->
<!------------------------------------------------------------------------------------------------------------>
<!--------------------------FIND USE ADVANCED EDITOR AND SET TO NO AND SAVE THE PAGE-------------------------->
<!------------------------------------------------------------------------------------------------------------>
<!------------------------------------------------------------------------------------------------------------>
<!------------------------------------------------------------------------------------------------------------>
<!------------------------------------------------------------------------------------------------------------>
<!------------------------------------------------------------------------------------------------------------>
<!-----------------------------------------------IMPORTANT !!!!----------------------------------------------->
<!------------------------------------------------------------------------------------------------------------>
<!------------------------------------PLACE IN HPM #1 AND MARK AS A FOOTER------------------------------------>
<!------------------------------------------------------------------------------------------------------------>
<!---------------------------GO TO YOUR LEAGUES HOMEPAGE AND READ POPUP THAT APPEARS-------------------------->
<!------------------------------------------------------------------------------------------------------------>
<!------------------------------------------------------------------------------------------------------------>

<!---------------------------------------------LOAD JQUERY LIBRARY-------------------------------------------->
<script type="text/javascript" src="https://ajax.googleapis.com/ajax/libs/jquery/3.4.1/jquery.min.js"></script>

<!--------------------------------------------LOAD ONE CLICK SCRIPT------------------------------------------->
<script type="text/javascript" src="https://www.mflscripts.com/mfl-apps/global/installer.js"></script>
"Load Template" Preview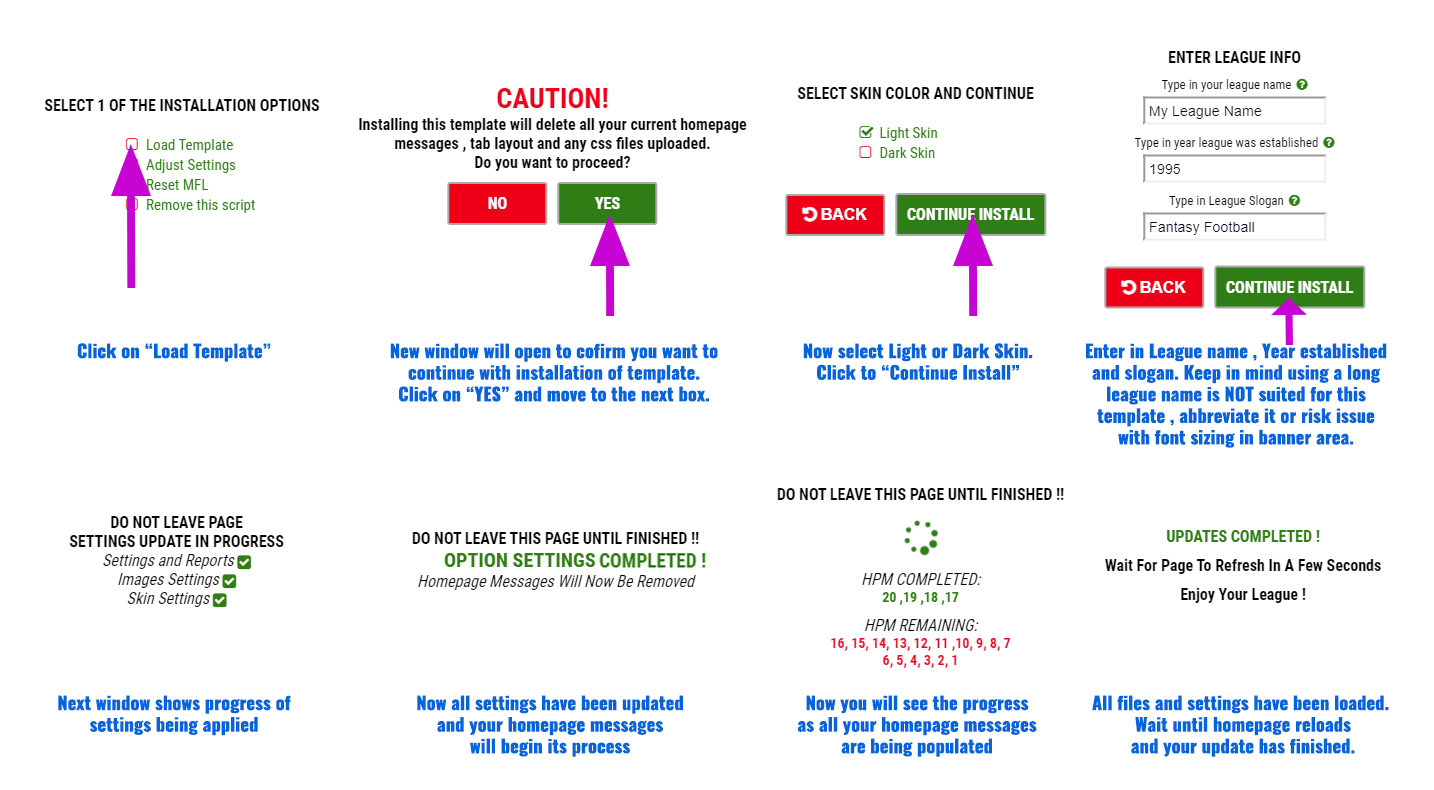 "Adjust Settings" Preview

"MFL Reset" Preview
"Remove this script" Preview

TROUBLESHOOTING TIPS
1. Recopy the code above and try again. Be sure your advanced editor is turned off.
2. Right click mouse on your page where script displays and click "Inspect Element" . In the browsers new popup window that displays , click on the "Console" tab. Now click on the "Errors" section. Here you will find a list of any errors that have occurred. Many errors our self explanatory and you can address yourself. If your error is showing cross site  CORS has been blocked , then you need to check every CSS, JS and IMAGE file on your site and be sure they all are using https  url and not http. Another error that appears could be "too many requests" , this happens when you refresh your site many times and MFL blocks your IP for 15 minutes for submitting too many API request. If thats the case , just wait 15-20 minutes and try again.
3. If the above wasn't any help , then post a question and we will do our best to help when the time allows.